311th Czechoslovak Bombardment Squadron
311th Czechoslovak Bombardment Squadron
Squadron letters: KX, PP
Date and place of establishment: July 1940, Honington
Disbanded: 15 Feb 1946, Plzen, Havlíčkův Brod, Czechoslovakia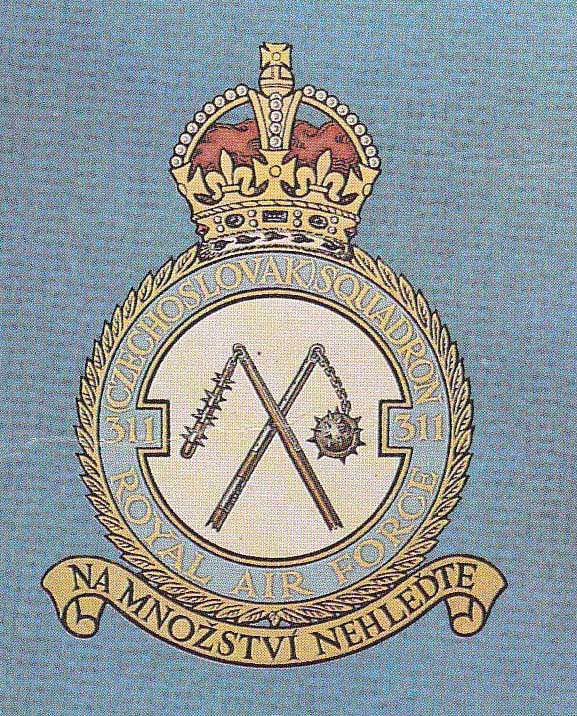 After the end of operational activities, the squadron participated in the repatriation of Czechoslovaks to their homeland. It took off from Manston, Pershore and Blackbush airfields.
Commanders of 311. czechoslovak bomber squadron
W/Cdr Karel TOMAN – MAREŠ, DFC, W/Cdr John GRIFFITHS, DFC (British/UK co-commander), W/Cdr William S. P. SIMMONDS (British/British co-commander), W/Cdr Josef SCHEJBAL, W/Cdr Josef OCELKA, DFC, W/Cdr Josef ŠNAJDR, DFC, W/Cdr Jindřich BREICETL, DFC, W/Cdr Vladimír NEDVĚD, MBE, DFC, W/Cdr Josef ŠEJBL, DFC,
W/Cdr Jan KOSTOHRYZ, DSO
The 311th Czechoslovak Bombardment Squadron used Wellington and Liberator aircraft.
Its first operational flight took place on 10 September 1940, the target was the marshalling yard in Brussels.
In 1942 it was reassigned from Bomber Command to Coastal Command due to losses and lack of backup.
During its service, the squadron flew 3,140 operational sorties totaling nearly 27,000 operational hours. 246 flying personnel were killed or missing. Deck gunners shot down eight aircraft certainly, seven probably, and damaged fifteen. Her crews sank two submarines certainly, three probably, and four were damaged in ways that probably could have sunk them.
The 311th Bomber Squadron's most frequent targets within Bomber Command were Bremen and Cologne, which the squadron attacked seventeen times.
The squadron's greatest success was the sinking of the blockaderunner Alsterufer, which was carrying over 300 tons of rare tungsten from Japan to Germany. The squadron's pilots also successfully attacked the blockaderunner Himalaya, which they damaged, as well as the cruiser Prinz Eugen, which was also probably hit.
The pilot with Bomber Command who flew the most operational hours was W/Cdr Josef Ocelka, DFC, with 224.5 hours in forty-four operational sorties.
In Coastal Command, the most hours were flown by radioman F/Lt Miroslav Vild, DFC, 1,178 hours and 32 minutes on one hundred and two operational flights. (And four operational flights of 18 hours and 32 minutes in Bomber Command.)
After the end of World War II in Europe, its members participated in the repatriation of Czechoslovaks from Great Britain back home to their homeland. In Czechoslovakia, the squadron personnel were assigned to the Air Transport Regiment and the 6th Air Division, which consisted of Air Regiment 24, stationed at Plzeň-Bory Airport, bearing the honorary name "Biscay" from 3 March 1948, and Air Regiment 25, stationed at Havlíčkův Brod Airport, bearing the honorary name "Atlantic" from 3 March 1948.
The 311th Czechoslovak Bombardment Squadron also participated in Operations Fuller – an effort to prevent the German fleet from escaping through the English Channel, Millennium (attacking around 1,000 aircraft on a single target), Overlord (Operation Cork) – protecting the English Channel against German submarines, and also attacked targets in Italy.
*** Translated with www.DeepL.com/Translator (free version) ***
Aerial view of the first base of 311th Czechoslovak Bombardment Squadron Honington. Archive of Pavel Simet.
An entry in the 311 Squadron log. Telegram of the International Red Cross quoting official German information that the plane with Sgt Karl Klimt, Sgt Otto Jirsák, P/O Hubert Jarošek, P/O Bohumil Landa was shot down on 16 October 1940 in the Bsterwyk district. They are buried in Bstwerwyk. No further information about Sergeants Novotny and Šesták. …' In fact, the KX-T Wellington was shot down over Zuider See. Only Emanuel Novotny and Augustin Šesták managed to jump out and were captured. The others were buried in the main cemetery in Oosterwolde, Oldebroek. Archive of Petra Tonder.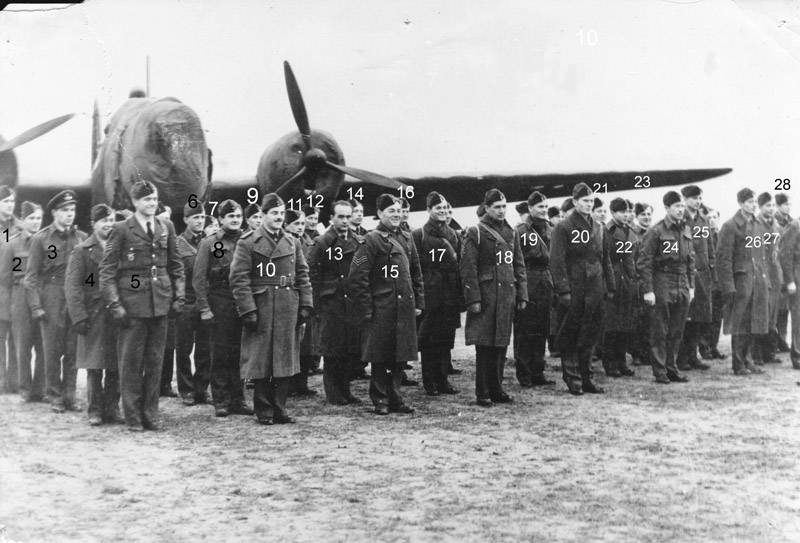 East Wretham, the second base of 311. čs. bomber squadron. Year 1941. 1. VALACH Karel, 2. HORÁK Josef, 3. KONŠTACKÝ Vilém, 4. FILLER Josef, 5. ANDERLE Leo, 6. VNOUČEK Jindřich, 7. ČTVRTLÍK Miroslav, 8. BERNÁT Josef, 9. SLÁNSKÝ Vladimír, 10. BREITCETL Jindřich, 11. KIRCHSTEIN Alois, 12. KOŠEK Ludvík, 13. ROZUM Alois, 14. ŠTUDENT Václav, 15. KORDA Václav, 16. ZAPLETAL Milan, 17. NEDVĚD Vladimír, 18. JEDOUNEK Arnošt, 19. BEČVÁŘ Karel, 20. ŠNAJDR Josef, 21. PROCHÁZKA Bedřich, 22. RADINA František, 23. MACHÁLEK František, 24. FENCL František, 25. DOSTÁL Hugo? 26. DOKTOR Jaroslav, 27. DOUBRAVA Josef?, 28. JAKŠ Vilém. Archive of Tomáš Jambor.
Entry from the diary of the 311th Czechoslovak Bombardment Squadron. Transcript of a letter from navigator Emil Bushina from a prisoner of war camp. "Dear Myr, greetings to you and Joyce. Please send me my service trousers, boat, shirts and underpants, towel, sweater, shoes, please send these things for my friends Frank and Ernst. I hope to see you after the war." Emil Busina became a prisoner of war after his plane accidentally landed on an occupied airfield on his return from a raid on Boulogne. The radio operator in this crew was Arnošt Valenta, the only Czechoslovak airman who did not return from captivity – he was murdered by the Gestapo. His profile can be found in another part of this exhibition. I assume that the Ernst for whom Emil Busina asks for clothes is Arnošt Valenta. Frank may be František Cigoš, the pilot of Busina's plane. Petra Tonder archive.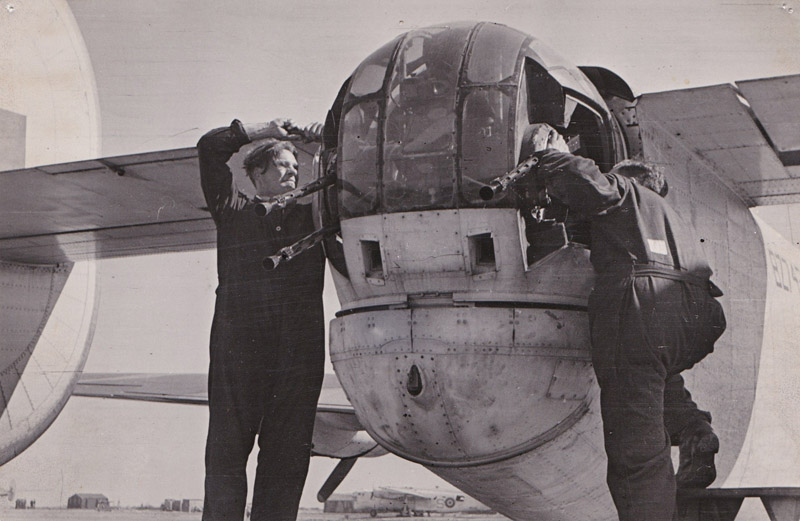 Squadron armourers. Archive of Tomáš Jambor.
16 October 1940, East Wretham. From left to right: Augustin Šesták, Jan Plzák, Karel Klimt (KIA, 16 October 1940), Karel Valach (KIA, 23 June 1941). Archive of Jaroslava Rozumová.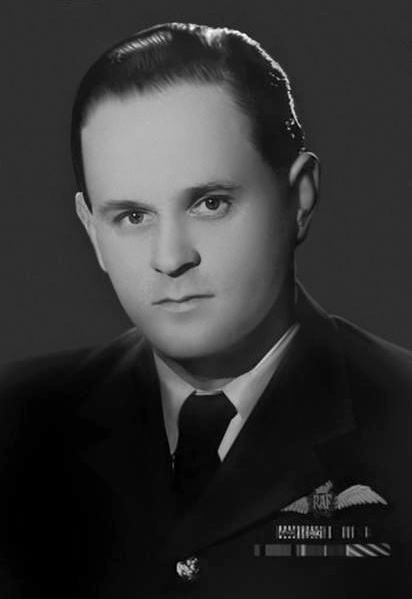 Vladimír Nedvěd, the youngest commander of the 311th Czechoslovak Bomber Squadron. He received the Most Excellent Order of the British Empire (MBE) for his attempt to rescue his comrade in arms. This is how he remembers the crash of his plane on the night of 16-17. "…I escaped from the fiery cage of the shattered aircraft…I remembered Jarda Toul in the rear…the rear gun turret was turned sideways but was closed…I found Jarda Toul huddled behind the machine guns… "Jarda, you must get out quickly, the whole machine is on fire"…I tried to lift him. I couldn't. …the whole front of the plane was in flames… about four meters to go. At this distance…knowing what was in store for Jarda…I again…took hold of his suit…we lifted his body together…but we could go no further. The fire was getting closer and closer, and then suddenly – a huge explosion. Only now did I realize that there were bombs in the plane…the fire was getting dangerously close…Jarda had both legs pinned under the seat and the whole weight of the tail was on them. I realized I couldn't lift the whole stern…I knew what was in store for him…to burn alive. A new shattering explosion, the blinding white flames of burning aluminum mingling with the fiery tongues of the oil bomb…I leaned toward Jard. "I can't free my legs," I said to him, … "Please…stay with me," he said softly. He was already fully conscious, unharmed anywhere but on his feet. I stayed with him at the tower. "I have a revolver in my pocket – shoot me." Those were his last words to me. The hardest decision of my life was about to be made. What to do? …I looked in my pockets for a gun, but I couldn't find it… the third bomb exploded. The air pressure grabbed me…I flew about five meters…" Jaromir Toul was eventually rescued, but died of burns.
Vladimír Nedvěd, MBE hijacked a CSA plane after the communist coup and flew into exile. By 1955 he was back in the RAF.
After returning from the raid. Archive of Tomáš Jambor.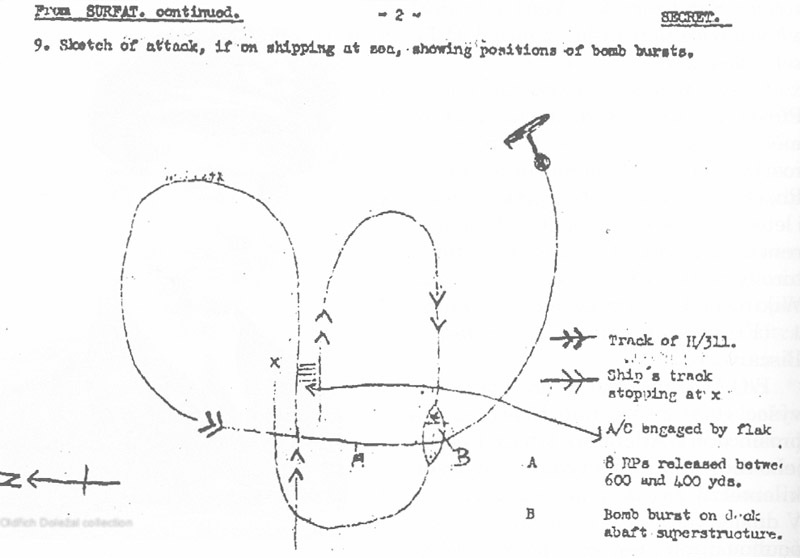 Drawing of the attack on the blockaderunner Alsterufer, made by the captain of the aircraft that sank it, Oldřich Doležal. Tom Dolezal's archive.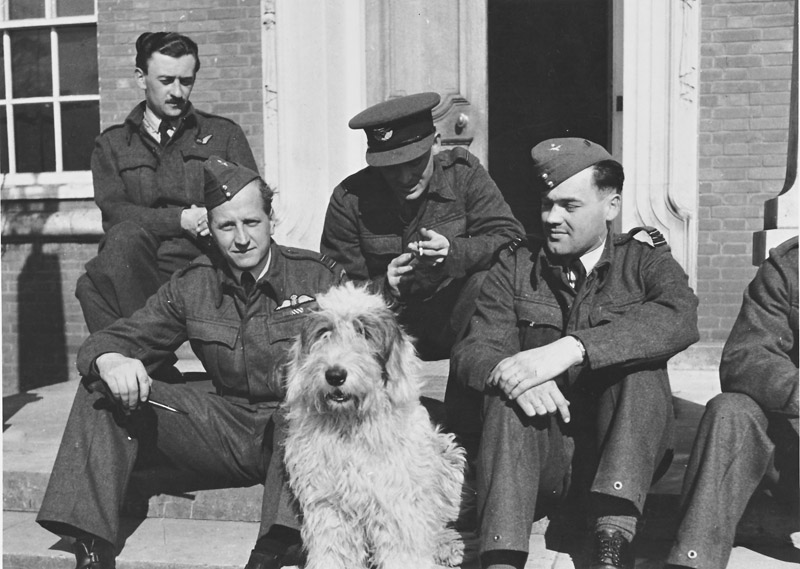 Eduard Simon, deck gunner, Charles Pickard, liaison officer with this squadron, Karel Bečvář, navigator, and Josef Ocelka, third commander of this unit. Archive of Pavel Vančata.